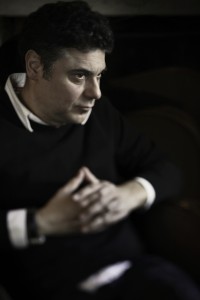 Alek Popov was born in Sofia, Bulgaria, in 1966. He grew up in a family of scientists and translators from French and English. Alek Popov graduated from St. Constantine Cyril the Philosopher Lyceum for Ancient Languages and Cultures in Sofia and later received his master's degree in Bulgarian language and literature from Sofia University St. Clement of Ohrid. In 1997, he attended the English Language Institute at Wayne State University, USA.
Alek Popov started his writing career very early with a number of short stories designated mainly to entertain his schoolmates at the Lyceum. His first professional steps are marked by the fall of communism and the ensuing period of the so called "Transition" to democracy. Popov's first collection of short stories The Other Death was published in 1992. During the 90ies Popov produced several collection of short stories reflecting the grotesque and absurd post-communist reality. He made his living contributing to news-papers and magazines often under different pen names. His works varied within broad scope of genres: horror and crime, erotic sci-fi, political satire and adventure. His book Games of Magic won the National sci-fi prize Graviton. Popov's short stories and essays have been translated into German, English, Hungarian, Polish, Croatian, Serbian, Czech, French, Turkish, Danish and etc. They are part of many anthologies of modern Bulgarian and European prose, among them Best European Fiction 2011 (Dalkey Press Archives) and Hotel Europe (Wunderhorn, 2012). Popov's most well-known collections include: Nasty Dreams, For Advanced (Helikon Prize, 2002), The Skin Weed, Mythology of Transition, and The Radical Thinker's Companion.
Popov's first novel, Mission London, based on colourful impressions from his time as the cultural attaché at the Bulgarian Embassy in the United Kingdom, was published in 2001. It has been widely acclaimed as "the funniest contemporary Bulgarian book" for its sarcastic projection of the Bulgarian diplomatic elite. However in the beginning no mainstream publisher dared to publish the book fearing political consequences. To date, Mission London has been published into 16 languages and has 7 editions in Bulgarian. The film Mission London based on the novel was released in 2010 and according to Variety Magazine was "a breakthrough phenomenon," leading the Bulgarian box office for weeks. It became the most frequented Bulgarian movie for the last 20 years. In 2011, it won the Unbribable Award of Transparency International Croatia's program "Culture against Corruption".
Popov's second novel, The Black Box, was published in 2007. It appeared in German from Residenz Verlag under the title Die Hunde fliegen tief (Dogs Are Flying Low) and went through several editions. The book reflects Popov's early loss of his father. A talented mathematician, he was regularly invited as a visiting professor in the USA during the 80ies. He unexpectedly passed away far from home while teaching at Philadelphia University in 89th. Back in Sofia arrived only a small box containing his ashes. Although inspired by a tragic incident the Popov's story has little to do with any documentary projections. A darkly comic satire, the novel exposes human selfishness, greed and delusion that is found in every society – whether it be in the former Eastern Bloc or the West, a dog-walkers' union or in the canyons of Wall Street, the rarefied air of academe or the Club of Successful Bulgarians. The Black Box won several awards including the Elias Canetti Prize and was further translated in Serbian, Turkish, Polish and Italian. However seven years later Popov decided to make a complete revision: in search for coherence and clarity, he rewrote several chapters and drew a new ending. In January 2014, The Black Box won the 2013 U.K. contemporary Bulgarian novel contest of the Elizabeth Kostova Foundation, organized in cooperation with Peter Owen Publishers. The book was published in English in April, 2015.
Popov's third novel, The Palaveevi Sisters: in the storm of History, was published in 2013. The novel is set in turbulent times – World War II and the subsequent Cold War. Popov takes an unusual approach to the painful past and tries to see it through the lens of irony and humor challenging the clichés of history and propaganda. The book headed the Top10 list of best-selling titles in Bulgaria for weeks, won the Helicon Prize for new Bulgarian fiction and was shortlisted for Elias Canetti Prize. In 2014, the novel appeared in German (Residenz Verlag), under the title Schneeweißchen und Partisanenrot (Snow-white/Partisan Red). The book was adapted for theatre and put on stage by Plovdiv Drama Theatre in 2015. A film adaptation is under way. Currently Alek Popov works on the sequel of the novel.
Directors and producers have shown interest in Popov's works ever since his first books started to appear, but his true affair with cinema begun with the film adaptation of Mission London. He was involved in the screenplay together with Delyana Maneva – a theatre director and researcher in the field of action analysis – and director Dimitar Mitovski. Working for cinema and theatre, Popov claims, helps him to better understand his characters and the nature of their actions and to develop his story lines further on. Alek Popov is author of six radio plays broadcast by the Bulgarian National Radio. In 2012, his play Blacksmiths was produced by the New Bulgarian University Theatre and was shortlisted for the Bulgarian Askreer Theatre Awards. The play was put on stage again by Burgas Drama Theatre in 2013.
For more than a decade Alek Popov was director of the House of Children's Literature in Sofia and editor in chief of a literary magazine for young writers. Occasionally he teaches creative writing courses and consults movie projects.
Over the years Alek Popov has won many literary awards including the Elias Canetti Prize for his novel The Black Box, 2007; Helikon Award for best prose book of the year, 2002, 2013; Chudomir Award for satirical fiction (Snow-white/Partisan-red) 2013; The Reading Man Prize, 2012; The National Prize for Drama Ivan Radoev, 2004, and etc. In 2012, Alek Popov was elected corresponding fellow of the Bulgarian Academy of Science in the field of Arts. He serves in the board of the Bulgarian PEN and is part of the editorial body of the literary magazine Granta Bulgaria.
13091 Total Views
4 Views Today