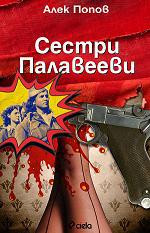 The Second World War is raging, and the Bulgarian society is torn by sharp civil conflicts.  Two girls from a prominent family, the twins Kara and Ira, run away to join the partisan rebels.  They join the fighting unit of Medved, a rough commander, who went through the grueling school of Soviet military counterintelligence. From the start, the pretty twins seed confusion in the hearts of the fighters.  Only a few hours into their adventure, the rebels are attacked by government forces, led by the fearsome captain Night.  The few survivors find safety in the Forbidden Woods…  Utopian hopes, tales of the USSR, and cartoon doodles mix in a magical cocktail that transports the heroes to a parallel universe.   The novel cuts boldly through historical myths and ideological clichés.  Stories of battles, betrayal, death and survival, full of tragicomical absurdity are told in Alek's emblematic lively style.  The fire of change fades in the shadows of the coming totalitarian regimes.  The Cold War finds the Twins on the opposing sides of the Iron Curtain…what will transpire?
Helikon Award for best fiction of 2013; The Flower of Helikon Prize for best selling book of 2013; short listed for Elias Canetti Prizeq 2014.
Praises for The Palaveev Sisters in the press:
"Popov enters a swamp full of poisonous snakes with a boldness and scope that impress. He finely manages to keep the track of his story straight and not allow it to be swallowed into the shifting sands of one or another ideology – either jingoism, or leftism, or whatever mental trap lies in wait. Literature must tell stories and this is exactly what this book does. Popov's novel would most probably provoke some extreme reactions and through this it will perhaps fulfil its true goal." Hristo Blajev, Knigolandia
"It's grotesque and bitterly ironic: at once obscene, cynical and… terribly funny. Popov takes leave of the past with a smile, mocking it. Alek Popov's most complete and mature work to date… This is one of the most important novels of 2013!" Borislav Gardev, LiterNet
"It wasn't possible for such a book to appear a few years ago. The author freely tramples through the space which up to recently was reserved for communist propaganda.
The freedom fighters theme was endlessly exploited in the past, but now it appears with a fresh new look and original sense of humour, through seemingly amusing stories which in fact end tragically. As it often happens in life!" Zornitsa Ilieva, Union of Bulgarian Journalists
"The characters of Alek Popov are smashing – every one of them has their particular face and phrases, you can recognise them even by a single gesture." Preslav Ganev, Literature Today (Literaturata dnes)
"The Palaveevi Sisters or the fucked up little camels of socialist-realism! Sooner or later any period should be rethought. After the end of the official propaganda, literature lost interest in the "partisan movement" for many years. Alek Popov mocks the period with an amalgam of adventures and ideological discussions." Aleksander Kristev, www.azcheta.com
"Oh, yes, Alek Popov has made up his mind again to subject the theme of communism to his psychedelic and ironic gaze. The book is so extremely absorbing that you wonder at some point – what really is the author's purpose? It is not a real "partisan novel" – that is for sure. But then what? An eccentric adventure story, with characters brought out from the recent past, and spiced up with irony… the novel deserves admiration and brings freshness and diversity in the landscape of contemporary Bulgarian prose." Gueorgi Gruncharov, Bibliotekata,
"This is an extremely amusing book! Although it would be unfair if we say just that, for Alek Popov's novel is something more: authentic, historically credible, informative and funny. It is a model for a genre which hasn't existed up till now and it sets a benchmark that hardly many other authors could reach." Elitsa Pavlovich, Sunday Book Club, the City Girls
6032 Total Views
2 Views Today